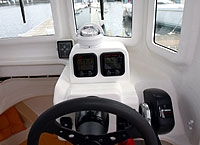 Pilot station is simple and workable.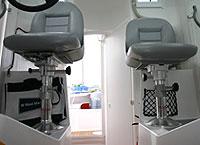 Looking up the pilot room from the bow berth (fo' c' sle).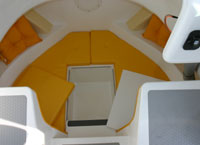 Looking down the bow berth from the pilot room. When you take the filler off, you can sit on the seats face to face and even can set a table in the middle (you may need some extra fitting work, though).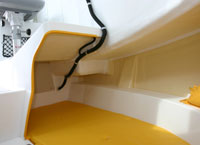 The bow berth looks a bit small from above, but inside, it stretches to the aft so that anyone up to 6 feet 4 inch high can lie down and sleep well.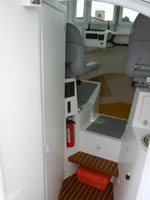 Looking forward from a back door of the pilot house. There is a galley on the right and a toilet room on the left.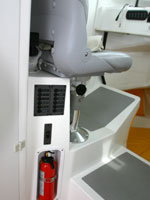 Switch panel / fuse box and a fire extinguisher are behind the side-seat.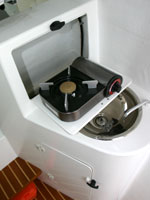 Galley is simple enough where you can do dishes and boil water at least. There is a room under the sink, and you can store a 2.6 gallon (or 5.2 l) fresh water portable tank inside.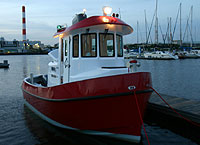 Turned all the lights outside and inside on. Very moody, isn't it?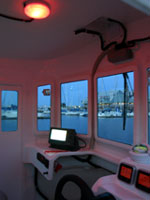 Pilot cabin dome light has red and white bulbs. Red is on now for the night vision.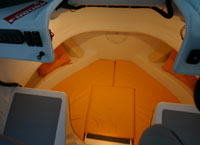 When the lights are on, bow berth gets warm and cozy. 2 adults can sleep fine on each side. Isn't it amazing?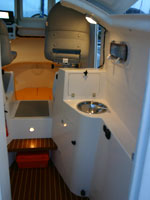 Interior lighting is well thought to provide comfort and relaxed atmosphere.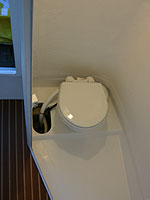 Independent bath room has good head clearance where up to 5 feet 5 inch men or ladies can stand up full to change clothes, etc. Electric head is standard. This versatile space is fitted as you wish, for example with a mirror, hooks to hang foul weather clothes, or a grated floor board.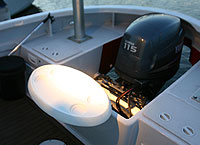 Set a table in the aft, light up with a deck light (fitted behind the funnel), then your evening party will soon be started.