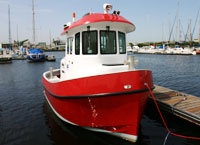 Just after the launch. Grab-rails at the fore-cabin roof and Spray-rails at the chine are soon to be added.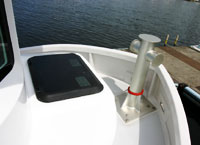 Sky-light hatch, through which an average size-adult can go in and out. A specially designed bollard is an essential part of this boat with character.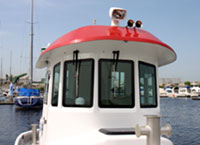 Wipers move parallel with each other. Spot / wide switchable search light and double-foghorn are standard.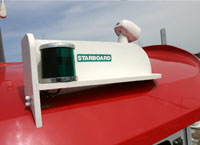 Navigation lights are put on the poly-urethane nav-light boards that were designed just like a real working tug boat.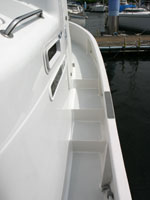 Aft and fore decks are connected by 1 foot wide side walks, which allow a 6 foot tall 200 lb big guy to walk through comfortably. The side walks have 3-steps to / from the fore deck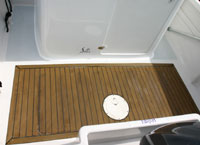 Aft deck has good size room with 1 foot 4 inch length fore and aft, laid with plastic teaks. 28.4 gallon capacity fuel tank is equipped under the teak deck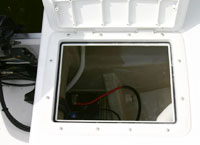 Inside the port-side aft storage, you will find a battery and main switch, and in the starboard side aft storage, you will see wirings for the outboard and an anchor.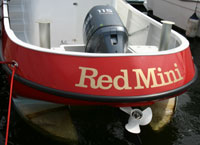 An outboard is neatly stored in the aft, and very charming back shape is still maintained without disturbing any of the smooth curves. She is proud of her hip, of course.